Worcester-Clinton Trolley
The Worcester-Clinton Trolley
By Inga Milbauer
For 30 years, trolleys were a familiar site in Boylston. The trolley line from Worcester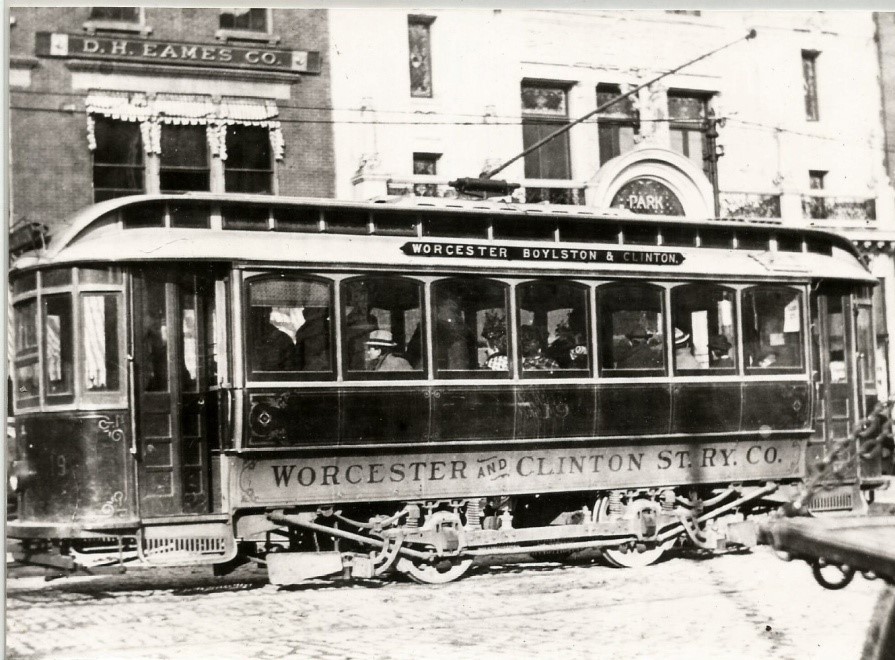 Union Station to Clinton, Massachusetts followed what is now Route 70, with stops in Morningdale and Boylston Center, and continued to Leominster and Fitchburg.
The electric streetcar or trolley in the United States was invented by American engineer and inventor Frank Julian Sprague. His spring-loaded trolley pole used a wheel to travel along the overhead electric wire which provided the power. Before his invention, many cities had a system of horse-drawn railcars. The rails allowed the horses to haul a greater load and provided a smoother ride than a horse-drawn bus. Like the horse-drawn railcars, trolleys ran along street tracks, but were cleaner and cheaper to operate. The first large trolley system was installed in Richmond, VA in late 1887-early 1888. The new technology was widely adopted. In 1893 there were more than 250 electric streetcar railways in the United States, operating on some 7,200 miles of track. By 1903 this number had increased to 29,000 miles and represented 98 percent of the nation's urban rail system.1
The first electric trolleys came to Worcester in 1891. On December 10th, 1898 the Worcester & Clinton Electric Street Railway was officially opened. A trolley car barn to store and maintain the cars was located in Boylston, on what is now the intersection of Route 70 and French Drive.
The arrival of the electric trolley line made the commute to work much cheaper and easier. This led to a building boom in Boylston, e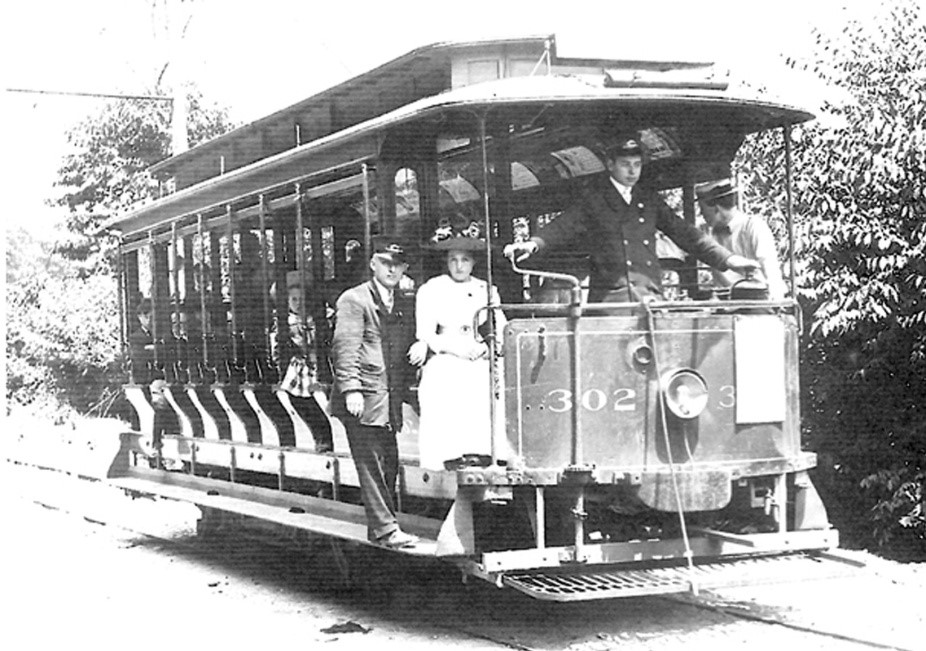 specially in the Morningdale section of town. In 1899 several tenement houses were built by local residents to accommodate the workmen who wanted to be close to the car barn on French Drive.2 This photograph, taken circa 1910, shows an open trolley car. The driver is George Lambert "Burt" Hazard, Jr., the son of George Hazard and Alice Flagg. He was born in Boylston in 1886 and died in 1984 in Worcester, Massachusetts. The trolley was able to attain speeds of 45-50 miles per hour on certain sections of the line.
In the 19th and early 20th centuries public transportation was run by for-profit companies and in the beginning many of the companies were small. The Worcester & Clinton Street Railway Company was absorbed into the Worcester Consolidated Street Railway Company in March 1901. By the mid 1920s, Worcester Consolidated was in financial trouble and several unprofitable trolley lines were discontinued. The Fitchburg Sentinel reports on October 1, 1925, that Supt. Burgess from Worcester Consolidated said that on certain trolley lines "buses and small autos are pushing trolleys out of business." According to the Boylston Historical Series Boylston's electric trolleys were discontinued in 1926 and replaced by buses a year later. "But who can forget the leisurely ride from Worcester to Boylston Center for the paltry sum of 5 cents!"3
__________
Acknowledgements:
Photographs from BHSM archives
1"Streetcars" Gale Encyclopedia of U.S. Economic History, edited by Thomas Carson and Mary Bonk, Gale 1999, https://go.gale,com
2Boylston Historical Series, Bruce Filgate, 2012, page 509
3Boylston Historical Series, Bruce Filgate, 2012, page 524
Boylston Historical Series, Bruce Filgate, 2012 (Volumes XI & XIII)
Fitchburg Sentinel, page 12, October 1, 1925
https://en.wikipedia.org/wiki/Horsecar
https://en.wikipedia.org/wiki/Tram
https://www.findagrave.com/memorial/59477979/george-lambert-hazard
https://www.telegram.com/article/20090625/COULTER03/906250554
https://worcester.ma/2016/08/free-to-read-worcestory-lesson-all-aboard-the-heydey-of-worcester-trolley-service