One Little Red Fire Truck
One Little Red Fire Truck
By Carrie Crane
If you are of my generation and think about metal toy trucks, Tonka immediately comes to mind. As it turns out though, Tonka Toys, established in 1956, represents only the most recent phase of the metal toy truck history.
Let's go back to the 19th century to begin this story. In 1815 the sheet metal stamping machine was invented allowing for the mass production of tinplate metal toys. These toys were not only less expensive than the wooden ones available, but were more durable as well. And their light weight construction made it possible for inexpensive shipping.
By the 1920s, tinplate was replaced with pressed steel. New technology made it possible to press scrap steel into thin sheets that could then be cut and molded into shapes. As time went by the toys became more detailed and often replicated in miniature all the details of the life size car or truck. Until the early 20th century, these toys were mostly imported from European countries, Germany, France and England in particular. But with the 1914 trade embargoes and anti-German sentiments growing, along with an increase in mining at home, United States manufacturers were poised to take on the European competition. The domestic metal toy industry flourished throughout the 20th century, briefly stalling for WWII when the metal was needed for the war effort. As the war ended industry kicked into action again and thrived until plastics took hold.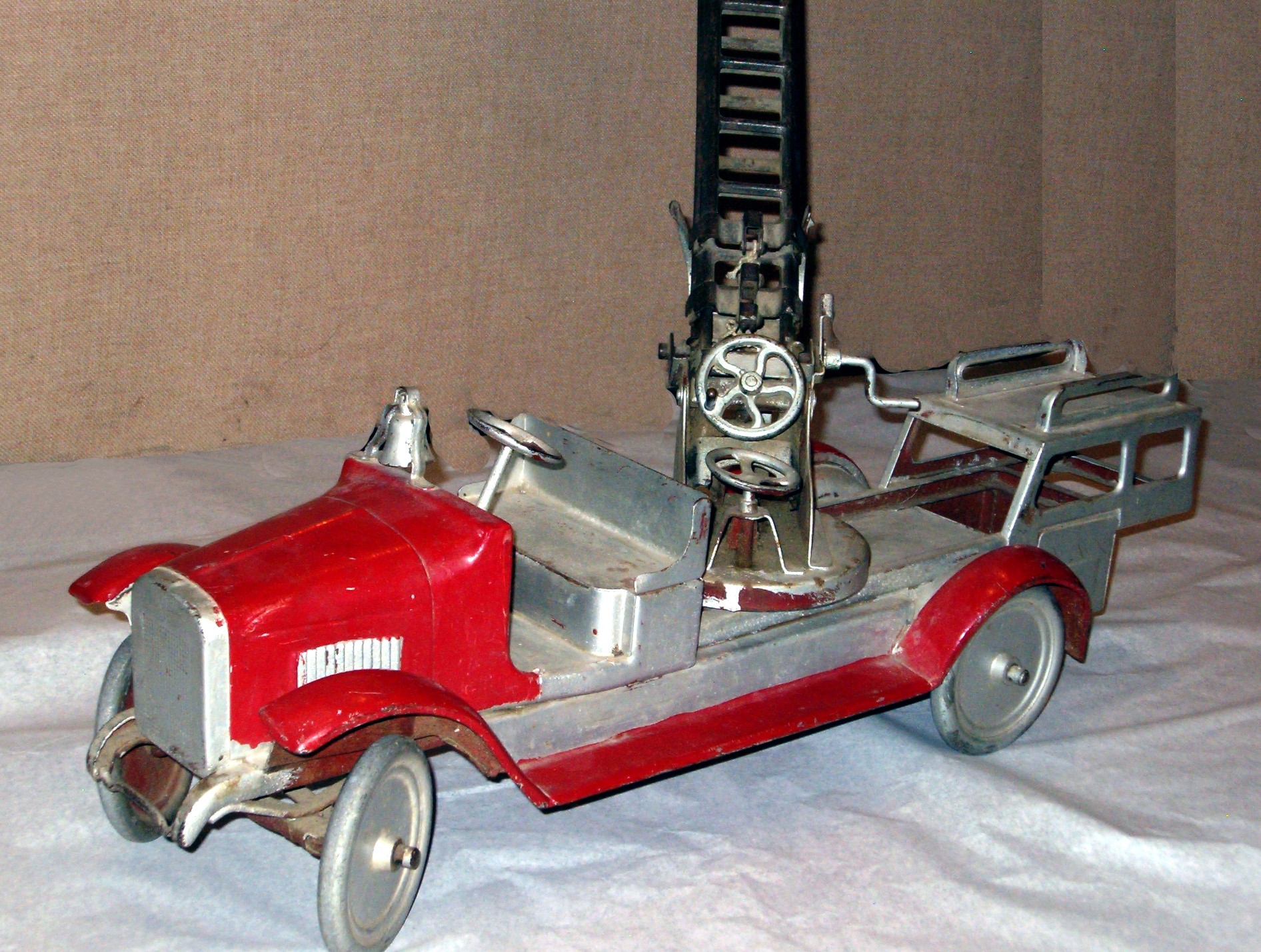 In the collection at the Boylston Historical Museum, there is a fine example of a steel pressed truck, the 28 ½ inch long Buddy L Aerial Ladder Fire Truck that once belonged to John Lawrence Brigham of Boylston. This vintage fire truck has a four section crank operated extension ladder which extends over 4 feet. Additionally, the ladder has a functional 1800 turntable pivoting it. Other classic features which delighted a youngster's imagination included a steering wheel that turned the front wheels and the fire bell that rang with the pull of the string to sound the alarm. This toy was manufactured in 1929 by the Moline Pressed Steel Co. of Moline, Illinois, founded in 1910 by Fred Lundahl.
The Moline Pressed Steel Co. initially manufactured parts for the automobile and farm machinery industry. By 1920 the machine industry had slowed down and Lundahl, an entrepreneur, made a toy model of one of his customer's farm trucks for his son, Arthur Bud who was known as Buddy L. The toy was well received by Buddy and his friends and represented a significant turn for the company. In 1921, he converted part of his machine shop into a toy-making shop. By 1923, the Moline company was shipping 70,000 toy trucks, cars, planes, trains and construction equipment a year. Sadly, Lundahl had only five years of successful toy manufacturing when at the age of 47 years, he died from complications following surgery, but his toy line would survive much longer, growing in value and fame reaching the highest collectors' peak about 20 years ago.
In 2001, Richard Keats, who owned the Buddy L Company from 1979 to 1990 auctioned off his collection of Buddy L toys for almost $2.5 million and it wasn't just children buying them. He sums up the popularity of these toys this way, ''In our genes, we as adults like all kinds of things when they are reduced to miniature size, whether they are toys, architectural models or patent samples. Children of course like anything adult that is miniaturized.''
________________
Acknowledgements: Editing & Photography by Nancy Filgate; https://en.wikipedia.org/wiki/Tin_toy; https://www.collectorsweekly.com/model-cars/buddy-l;;ttps://www.collectorsweekly.com/model-cars/pressed-steel;;https://museumstrathroycaradoc.wordpress.com/2014/07/15/artifact-of-the-month-buddy-l-truck/;https://www.antiquesandthearts.com/randy-inman-sets-buddy-%C2%91l-records/;https://www.nytimes.com/2001/03/02/arts/antiques-a-fleet-of-boys-daydreams.html