Boylston Boy Scouts
Boylston Boy Scouts
By Judy Haynes
For over one hundred years, Boylston boys have participated in troops in surrounding towns of Shrewsbury and West Boylston with Troop 103 Boylston active in the 1960's and reactivated in 2013. The Mohegan Co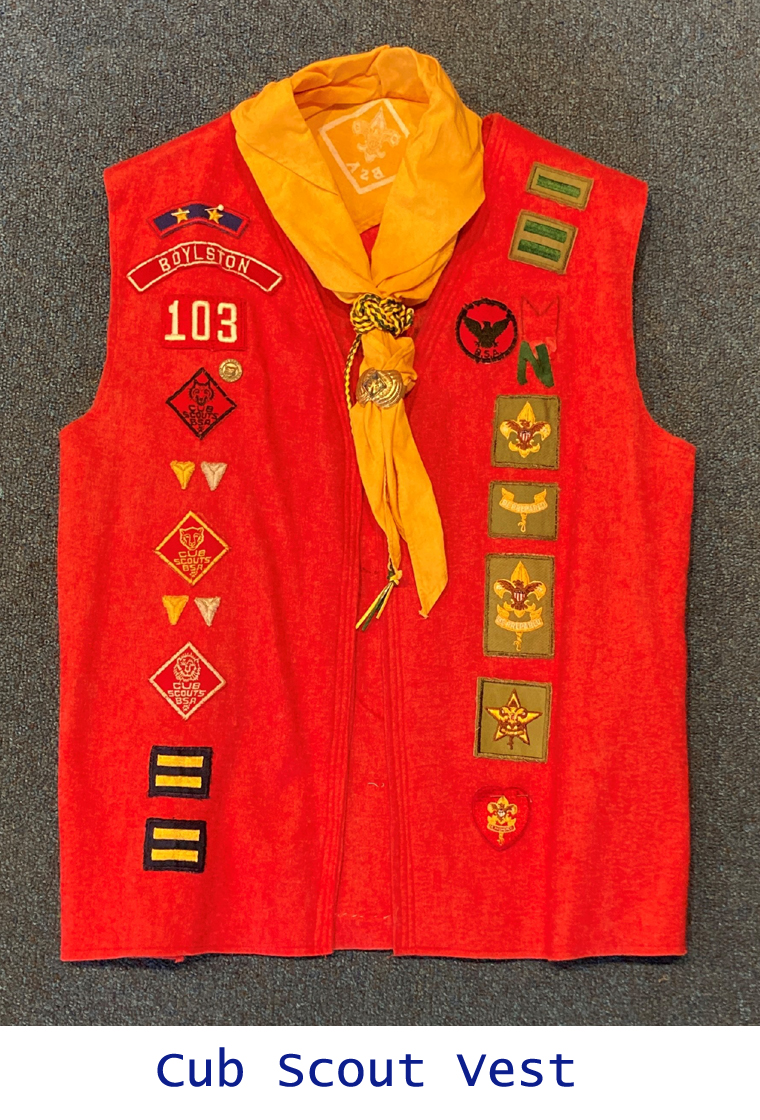 uncil for the Boy Scouts of Worcester area was formed in 1916, as was Troop 114 which was formed for Shrewsbury, Worcester and Boylston boys, so Boylston boys have enjoyed scouting since the early twentieth century.
The Boylston Historical Museum Collection has the boy scout uniform and cub scout vest of Edward "Ted" Wirt, who had been with the Boy Scouts of America, first as a Cub Scout from 1963 to 1966 and then as a Boy Scout from 1966 to 1970. A scout's uniform: shirt, neckerchiefs, vest, sash, and badges represent his personal scouting history from Cub Scouts to the first phase as a Tenderfoot Boy Scout until he reached the pinnacle as an Eagle Scout, a leader in his troop. Each merit badge sewn to his sash and pin on his uniform represents the mastery of a given activity.
At the present time, there are over 135 merit badges that can be earned by a scout which cover all aspects required of a good Scout, learning how to survive safely and camp in the out of doors, being a good citizen, doing a good deed daily in a kindly and cheerful manner. There are badges for hiking, cycling, cooking, canoeing, government, first aid, science, business, and future careers. A scout lives up to the Oath:
"On my honor I will do my best to do my duty to God and my country and to obey the Scout Laws; to help other people at all times; to keep myself physically strong, mentally awake, and morally straight."[1]
The Scout law has 12 goals for every Scout, a scout is: trustworthy, loyal, helpful, friendly, courteous, kind, obedient, cheerful, thrifty, brave, clean, and reverent.[2]
A s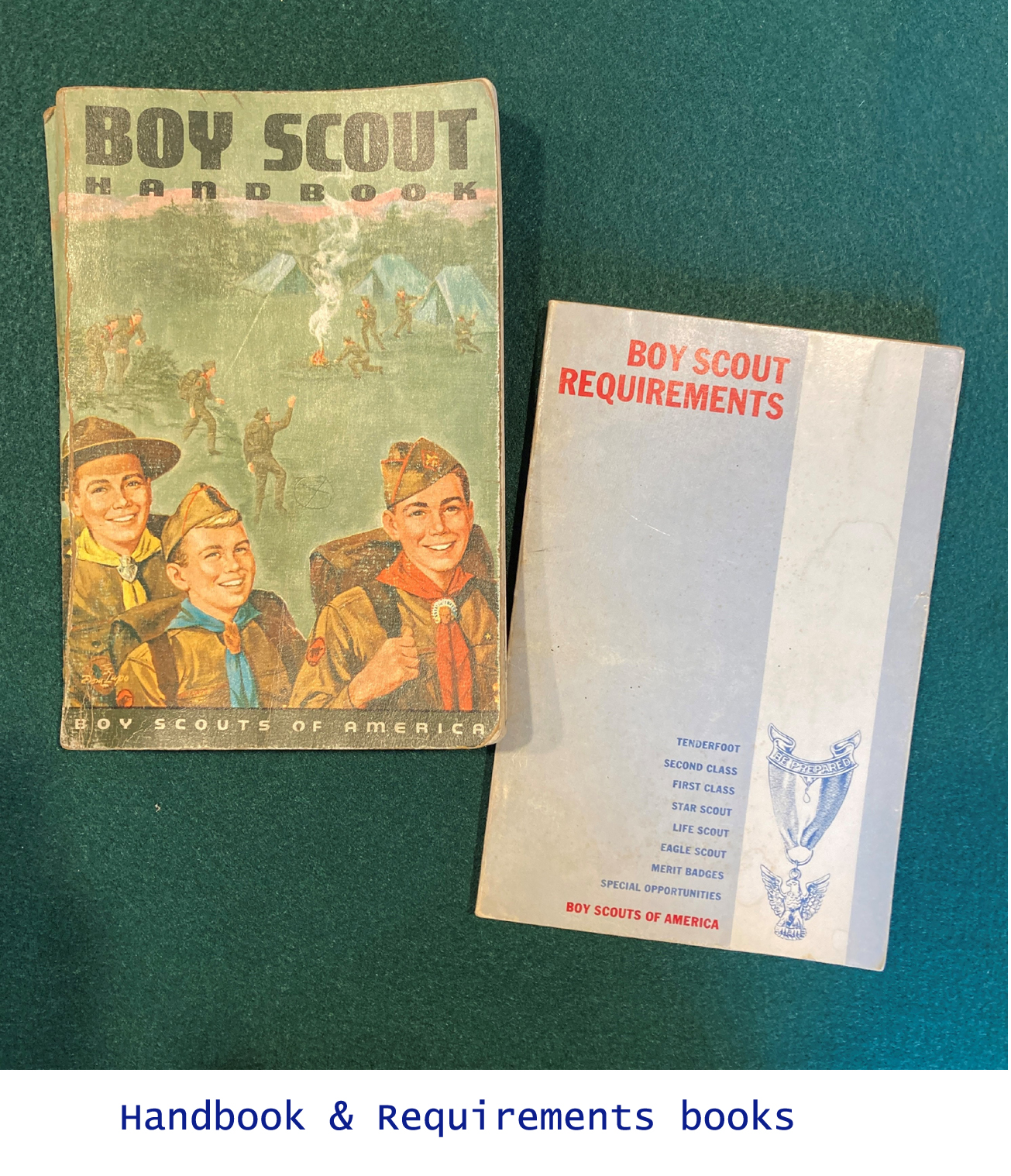 mall booklet titled Boy Scout Requirements[3] presents all the information a boy needs to begin step one as "Tenderfoot," pass the test and move through the ranks to Second Class, First Class, Star, Life, and ultimately Eagle Scout. To achieve the rank of Eagle Scout a boy must be active in the troop, demonstrate scout spirit by living the Scout Oath and Scout Law, earn a minimum of 21 merit badges, and plan, develop and lead a service project that is helpful to a religious institution, school, or community. A scout's merit badge sash proudly displays the badges earned.
The man credited with the first Scout organization, the British Boy Scouts, is Robert Baden Powell. This Lieutenant General was leading his English soldiers in the Boer War in South Africa and noticed a lack of preparation of his young men to live and survive in the out of doors. General Powell noted how a group of boys trained to deliver messages in Mafeking, South Africa had been trained to deliver messages. Once out of the army, he decided he would use this example of training to create a model that would prepare young men for their future.
In 1907, he took a group of 20 boys for an experimental camp on Brownsea Island, near Poole in Dorset, England.[4] This was a successful camp and led to a movement that became worldwide. In 1908 Lord Powell wrote a book Scouting for Boys. It wasn't long after this that groups such as the Young Mens Christian Association (YMCA) and others focusing on the out of doors in the United States began to copy the goals of forming clubs and groups who could enjoy these experiences while also learning important outdoor activities and skills along with good citizenship. By 1910 a Chicago Publisher, William Boyce, incorporated it as the Boy Scouts of America; thus, he is considered the founder in this country.[5]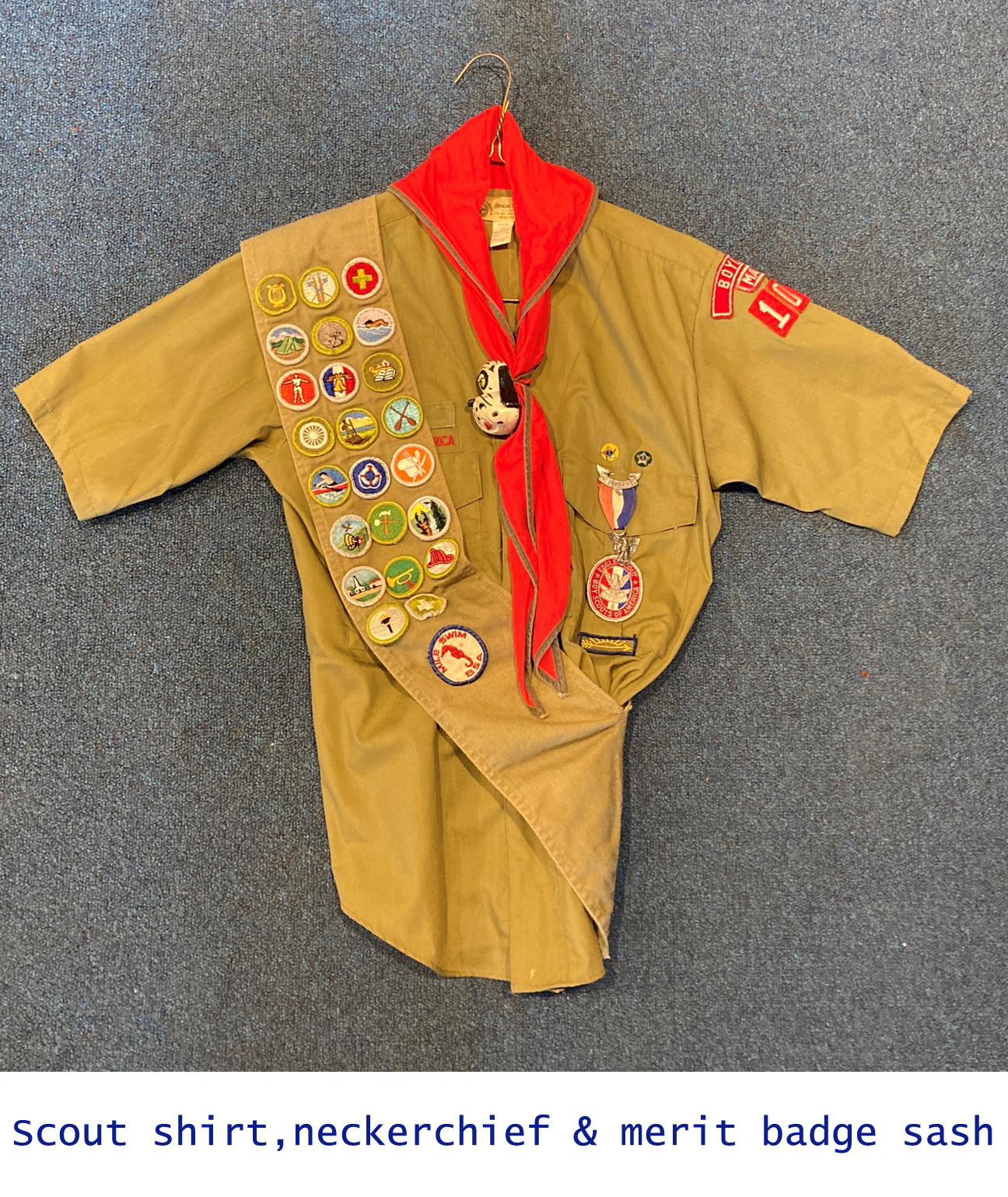 The uniform with its khaki color is symbolic of the out of doors as it was inspired by the land, forests and trees, care of the land being an important component of Scouting. It is estimated that in 1965 there were six million boys and leaders worldwide wearing the Scout uniform.[6] The Boy Scout pin with its fleur-de-lis, stars, eagle and shape is also symbolic of the movement. The north point was adapted from the old mariner's compass, the uplifted edges on the scroll pin are turned up to imply smiling while doing one's duty while the stars and compass represent the guides to outdoor life and are a reminder to go forward and live the "right way in life." On the scroll is printed the motto 'be prepared' and there is a hanging piece to remind the wearer to do a good turn daily.
Ted Wirt was chosen to be the Patrol Leader by his fellow scouts and in 1969 and 1970 he kept a Patrol Leader's notebook. The patrol leader is responsible for leading, starting the meetings, evaluating ideas, making suggestions for doing good turns and planning activities such as hiking, biking, camping and even visiting cultural and historical sites. His notebook kept attendance at meetings, notes and summaries of activities. The name chosen for his patrol was Cherokee Patrol. Ten members made up the patrol: Ted Wirt, Paul Lucia, Mike Papie, Brent Fisher, Mark Ramwell, Ken Woods, Dean Mann, Peter Brandt, Niki Reitzel, and Ken Flagg. The patrol created a one-page newsletter, also called 'The Cherokee.' In it they reported on their various advancements and activities. They even won "the sacred mallet twice in one year"—This was a mallet given to Troop 103's best and most active patrol.[7]
One of the most enjoyable and attractive activities for the Scouts were the various camping trips and overnights. Being at Treasure Valley boy scout camp for a week was a highlight with lots of the outdoor fun, learning archery, handling a rifle, canoeing, swimming, and craft making that any young man would enjoy. There are delightful reminiscences and reports of the camping trip in the "Eagle," a troop newspaper which noted how each boy would try to figure out a new way to get in a little extra sleep only to be thwarted by Scout Leader, Don Parker, with his "…GET UP" each morning out at the camp.[8]
Don was a well-respected leader from 1964 to 1970 when he became Boylston's Fire Chief and could no longer devote every Thursday evening to the Boylston Boy Scouts. He said at a ceremony honoring him at the end of his service to the boys
If for five minutes I have kept these boys off the streets, it has all been worth it."
The boys said this spirit and concern for the kids is "what keeps our troop moving."[9]
"Without this man, our Troop would be nothing. Mr. Parker, we salute you."
Scouts have been answering every call that the nation put before them and they continue to do so. They help with cleanup following hurricanes and storms, they serve their country when called upon from selling war bonds during WWII, to serving wherever they are needed. They serve in communities everywhere with their daily good deeds and acts of kindness. They live by the Golden Rule: Do unto others as you would have them do unto you. Being kind to others and living this rule is at the heart and success of the Boy Scout movement.
Boylston has seen several Eagle Scout projects recently that involved giving back to their community. Examples include the clearing of trails and cleanup at the town's Hillside Trails. Another project involved working directly with the Boylston Historical Commission to create an excellent walking guide to the town's center and its historic properties.
We challenge our readers to contact us if you have any tidbits of early Boylston Boy Scout history. The call went out in a newsletter of 1970 from Troop 103 asking your grandfathers and uncles if they had any knowledge of the earliest BSA involvement in Boylston. If you have some information, we would love to hear from you.
---
[1] Boy Scout Handbook, p. 31, 1965 edition
[2] Boy Scouts of America, https://scouting.or
[3] Boylston Historical Society book collection, published by BSA, 1970
[4] www.boyscout history
[5] Ibid.
[6] BSA Handbook, p 20, 1965 ed
[7] Cherokee newsletter, December, 1969
[8] Wirt's Patrol Handbook
[9] "The Eagle" newsletter, 2/12/1970, p.6.
Editor, Nancy A. Filgate, Director, Boylston Historical Society & Museum, Inc., Boylston, Massachusetts
Photography, Carrie Crane, Boylston, Massachusetts
Published 31 December 2021