GENERAL INFORMATION:
The Boylston Historical Society and Museum is open for visiting and/or research on Saturdays from 9am - 12 pm
, Sundays from 2pm - 4pm, or by appointment. Phone, email or write us with your name, phone number, and a short message about your inquiry.
THE BUILDING:
The town of Boylston leases the "Historic Center Building" to the Society to use as its headquarters and museum. We refer to the building affectionately as the "Old Town Hall." It was built in 1830 with a grant given by Ward Nicholas Boylston, who was a benefactor of the town.
It is made of granite and has a bell tower complete with bell, which is rung on special holidays. The downstairs contains the rest rooms, meeting room, library, and a work area in the back. The basement contains a walk-in vault. Upstairs in the hall we have our museum, store, and plenty of room for lectures, slide shows, and celebrations. The original stage is there. The balcony is used to house our extensive clothing collection. 

The Museum has many exhibits that change often. Please come by to see what's new!  Also visit our Facebook page for more pictures!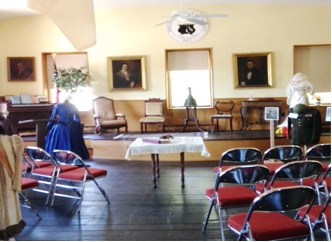 The Museum Stage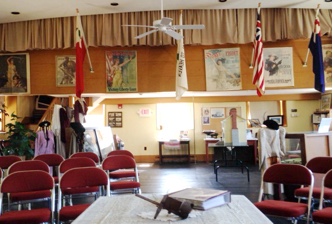 Back of the Museum