Old Burial Ground
Boylston, MA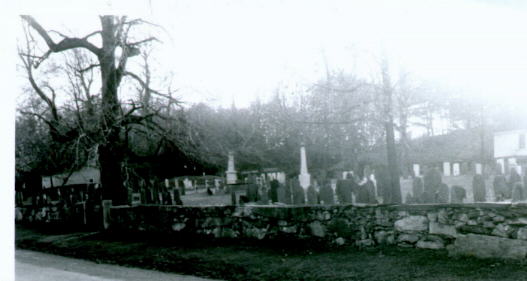 at the intersection of Main and School Street

History
One of the first acts after the incorporation of what is now Boylston into the North Precinct of Shrewsbury, was to acquire from Lieutenant Eleazar Taylor, two acres of land which the inhabitiants dedicated to the use of a Meeting House and a Burial Ground. The Burial Ground was laid out in 1742 and the first burial took place April 14, 1745 and was that of Garner Maynard, son of Elisha and Hulda Maynard - he was 11 months, 11 days old.
Many of Boylston's most important historical figures are buried here including Capt. Robert Andrews, commander of the town's Minutemen in 1775; Dr. Samuel Brigham, Paymaster on the staff of General George Washington; Henry Keyes, the town's only verteran of the French and Indian War; Rev. Ebenezer Morse, the first minister and a prominent Tory during the Revolution; and many graves of men who served in the War of Independence.
This ancient cemetery is one of the few grave yards in this part of Massachusetts that ever featured in a body snatching. In the early part of the nineteenth century there resided in the family of Captain Robert Andrews Senior, a young, Black about eighteen years old. He was known as Moses Cate and his family as the Cate Bondsman family for they had formerly been slaves of the Andrews family. Moses was then employed by the Taylors as a farmhand and he was finely developed and a very healthy youn man. One day he complained of a slight illness and a young physician who had come into the town with the intention of settling here, was sent for to attend him. The young man grew no better and after a few hours of intense suffering, died. He was buried in the back part of the cemetery. A few mornings later, the hired man at a nearby taverhouse (probably the Taylor Tavern ) who had been out late the preceeding night returned after the house had been closed, entered the barn and lay down to sleep. On awakening the next morning he was surprised to find that he had been sleeping by the side of the dead Black. The following spring, Captain Gershom Flagg was on his way to the annual town meeting when he found the wooly scalp of Cate hanging from the wooden archway across the brook flowing out of Malgasce Swamp. The physician in question left the town soon after this discovery. Apparently the young doctor had decided to use the body for medical experiments and had disposed of it in or near the brook after he was finished. The identity of the doctor is not known with any certitude.
By the 1830's the burial ground was becoming crowded and a new site was purchased and the Pine Grove Cemetery was established in 1837. Only occasional burials took place after this in the Old Burial Grounds.
Sources:
George L. Wright, Town Historian, "Unpublished Manuscripts"
H. M. Cheever, "Inscriptions from the Old Cemetery in Boylston", MS, 1944
Boylston Historical Commission, "Local Names of Places", 1971
William O. Dupuis, "History of Boylston 1742 - 1786", 1972 Boylston Historical Commission






MONUMENTS




In general the Old Burial Ground is in good shape, attended to by the Town of Boylston

Photo #'s refer to photos of headstones - contact Boylston Historical Society for more info.

There are Three Monuments:

1. ABBOTT - 19th century - Column with base - unknown artist - Photo # 325

FRONT:
Jason Abbot, July 26, 1843, 71y
Mrs. Mary Abbot, Aug 28, 1843, 76y
Ebenezer M. Abbot, Feb. 24, 1807, 2y
William H. Abbot, Mar. 6, 1809, 2y

CLOCKWISE:
Left Nothing

CLOCKWISE:
Rear:
Mrs. Rebecca Abbot Hastings, Oct. 22, 1827, 25y - wife of John E. Hastings
Miss Mary A. Abbot, Sept. 23, 1837, 39y

CLOCKWISE:
Right:
Samuel Marsh, Died 1873, 83y
Persis Abbot Marsh, Dec. 20, 1870, 71y,3m, 8d, wife of Samuel Marsh








2. BOND MONUMENT - 1863 - Column with Base - P. Nugent, artist - Photo#326
FRONT:
Thomas Bond, b. Aug 14, 1807, d.July 26, 1892
Harriet(Slocum)Bond, b. Dec. 22, 1804, d. Mar. 18, 1888, wife of Thomas Bond
CLOCKWISE:
Left:
Ruth Bond, b. July 22, 1799, d.Aug 9, 1822
Sally F. Bond, b. Jan 6, 1801, daughter of John and Judith Bond,wife of Capt. Thomas B. Eaton of Worcester
Col. David F. Bond, b. Oct 6, 1802, d.Oct. 27, 1833
Louisa Bond, b. Nov 26, 1805, daughter of John and Judith Bond,wife of Col. Aaron Gibbs of Leominster
John B. Bond, b. Feb 6, 1810, d.Dec 15, 1853, son of John and Judith Bond
CLOCKWISE:
Rear:
Capt. John Bond, b. Feb 5, 1770, d.Oct. 22, 1837
Judith (Fisk)Bond, b. Jan 7, 1775, d.May 10, 1834, daughter of Col. David and Sarah (Bond) Fisk; Col. David was in the Rev. War
CLOCKWISE:
Right:
Maria P. Bond, b.Aug. 6, 1835, daughter of Thomas and Harriet Bond, wife of Thomas A. Shaw of Hartford
Elizabeth W. Bond, b.Sep 12, 1837, daughter of Thomas and Harriet Bond, wife of Albert W. Andrews of Worcester
George Calvin Bond, b. Mar 3, 1841, son of Thomas and Harriet Bond, husband of Abby Holbrook of Shirley
Mary S. Bond,b. Mar 2, 1843, daughter of Thomas and Harriet Bond, wife of Oran A. Kelley of Worcester
Harriet H. Bond, b. Nov. 10, 1845, Daughter of Thomas and Harriet Bond, wife of George F. Hurlburt
Henry A. Bond


3. ANDREWS - early 19th century - mound type - unknown artist - Photo #327

In Memory of
Capt. Robert Andrews(Rev. War), b. Boxford, Nov 8, 1722, d.Nov. 11, 1789, 67y
Lucy Bradstreet Andrews, b. Topsfield, d. Dec. 22, 1815, 91y, wife of Capt. Robert
John Andrews, b. May 29, 1757, d.Feb. 3, 1822 (Rev. War)

* There are possibly others buried in the tomb, which is a mound type.





INDIVIDUAL STONES

NOTE - Number at end of entry refers to the photo number

ANDREWS:
Mr.& Mrs. David & Abigail(Nixon) and 8 children, Jun 14, 1769 (40y) and Aug. 31, 1809 (68y),- 37
Margaret(Parker), b. Holden, Feb.2, 1770, d.July 25, 1847, 75y, Dau. of Timothy and Margaret(Wood)
Elizabeth, Sept. 28, 1757, 3y, dau of Robert and Lucy (Holt) Andrews
Jotham, Nove 26, 1852, 81y
Miriam (Bigelow), Jun 6, 1845, 71y, wife of Jotham
Uncle Charles, Dec.14, 1881, 78y, 8m, 15d, son of Jotham and Nancy (Hannahs) Andrews
Asa, Aug 17, 1844, 62y
Polly (Sever), Jun 6, 1845, 52y, wife of Asa
Francis Edward, Jan 28, 1841, 8m, 15d
Justin, Apr 7, 1838, 40y, in Boston, son of Robert and Lucy (Holt)
Tamer (Fawcett), Nov 7, 1844, 44y, wife of Justin
Lucy Ann, Aug 31, 1836, 19y
GeorgeH. Nov 1, 1840
Edward R. Mar 2, 1851 , 19y
Julia Ann, b. sep 29, 1825, d. Dec 15, 1845, wife of John Francis Whitney

ALLEN
Mrs. Mary, Oct. 8, 1779, 68y, 3mo - 150

AMES
Miss Lucy, May 20, 1827, 6y- 86
Miss Mary, July, 15, 1807, 3y, 3m, 11d - 87
Mrs. Betsey (Green), May 12, 1824, 49y - wife of Lt. Daniel88
Lieut. Daniel, Aug 25, 1820, 47y - 88
Mary, Oct. 3, 1849, 41y

ASTIN
Timothy, Mar. 1, 1824, 51y - 181

Ball
Miss Phebe, Aug 22, 1814, 21y, 8m, 6d, daug. of Elijah and Phebe - 154
Mrs. Phebe (Densmore), Feb. 14, 1804, 33d, first wife of Elijah (Jr.)- 155
Mr. Alvin, Mar 17, 1803, 10mo, 17d, son of Elijah and Phebe - 155
Mr. Elijah, b. Mar. 1748, d. Oct 10, 1834, 87y, was in Rev. War - 176
Mrs. Rebeckah (Moore), Oct.(13?), 1829, 75y, wife of Elijah - 176
Miss Lucy, Mar 15, 1811, 33y - 190
Mrs. Sophia (Shepard), Feb 2, 1835, 30y, 7mo, 18d, wife of Joseph
Mr. Joseph Henry, Mar 20, 1834, 3y, 2mo, son of Joseph and Sophia
Mr. Oscar W., Jul 15, 1837, 1y, 4mo,10d, son of Dunsmore and Elmina (Shepard) Ball
Mr. Elijah (Jr.) , Sep .29, 1859, 88y,1mo,
Mrs. Anna (Moore)(Goddard), Nov. 2, 1840, 73y, 6mo, second wife of Elijah (Jr.)
Mrs. Susan (F.Cummings), Nov. 12, 1832, 40y, 7mo, wife of Ezra
Mr. Phineas, Feb. 6, 1814, 19y, son of Elijah and Rebeckah - 178

Banister (Bannister)
Mr. Luke, Feb 9, 1801, 14y, 11mo, son of Nathan and Sarah - 124
Mrs. Sarah (Whitney), Jun 19, 1817, 68y, wife of Nathan - 125
Mrs. Polly (Hastings), Jan 20, 1831, 45y, wife of Capt. Seth
Mr.(Corporal) Nathan, Aug 28, 1825, 78y, Rev. War soldier form Shrewsbury - 126

Barnes (Barns)
Mr. (Corporal) Oliver, Sep. 11, 1806, 60y, Rev. War soldier form Shrewsbury - 322
Mrs. Dinah (Bennett), Dec. 13, 1812, 74y, second wife of Oliver - 323
Miss Lucinda, Nov. 5, 1795, 2y - 324
Abigail (Hastings), d. ?, first wife of Oliver
Thomas B., Sep 10, 1806, 60y

Bennett
Mr. Judah Alden, Mar 2, 1779, 3mo, 20d, son of John and Lucretia (Rice) Bennett-135

Bigelow
Mr. Charles, Nov. 20, 1782, 52y, Rev. War soldier from Shrewsbury - 6
Mr. Capt. Joseph, Jan 24, 1783, 81y - 7
Mrs. Martha (Brigham), Oct 13, 1784, 70y, wife of Capt. Joseph - 8
Miss Lucy, Sept 7, 1795, 4y - 9
Mr. John, Sept 1, 1802, 2 1/2y - 10
Mrs. Sarah (Fassett), Jan 25, 1806, 41y, first wife of Andrew - 11
Miss Eunice, Apr 9, 1783, 22y,Dau of Capt. Joesph and Olive (Beaman) Bigelow - 3
Miss Betsey, Nov 1, 1781, 5w, 5d., dau of Dr. Amariah and Persis (Beaman) - 171
Mrs. Sarah (Eveleth), Jan 2, 1798, 67y, wife of Dea. Amariah - 172
(Biglo), Mrs. Lydia (Brigham), Mar 17, 1748, 26y, 3d, wife of Dea. Amariah, dau of Thomas and Sarah Brigham- 173
(Biglo), Deacon Amariah, Mar 8, 1780, 58y, 5m, 25d - 174
Andrew, Sep 11, 1834, 71y, Rev. War soldier from Shrewsbury
Lydia (Townsend), Jan 10, 1862, 83y., 4m, second wife of Andrew (widow of Levi Whitney)

Bixbey
Mrs. Mary, May 1, 1773, 62y, wife of Samuel Bixby - 259

Bond
Mr. Joseph, Oct 30, 1781, 20y - 187
Deacon Jonathan(Lieut.- Rev. War), Nov 4, 1793, 58y - 188
Mrs. Ruth, Dec 27, 1793, 24y, - 169
Dog Jack, male, Canine, - 170
Mr. Joseph, Oct 30, 1781, 20y, son of Jonathan and Ruth(Tyler)Bond, he was a student at the University of Cambridge
Mrs. Sarah, Jan 20, 1814, 66y, wife of Col. David Fisk
Tyler Bond, Feb, 12, 1813,21y
Henry A. , b. Dec.15, 1848, d. May 20, 1864, son of Thomas and Harriet Bond

Brewer
Miss Caroline, Nov. 17, 1821, 11y, dau of John and Dorcas (Bruce) Brewer - 288
Miss Eliza (?Elizabeth), Nov 6, 1829, 24y - 289
Mr. James, Jul 23, 1830, 75y - 304
Deborah (Moore), Dec 6, 1837, 75y, wife of James
Almira R., May 30, 1834, 17y, dau Henry and Betsey (Brigham) Brewer
Thomas, Sep 17, 1872, 81y, 10m.
Sally (Plimpton), July, 6, 1826, 35y, wife of Thomas
James, Jan 24, 1859, 79y
Betsey (Moore), June 21, 1878, 96y, wife of James

Brigham
Mrs. Jemina (Snow), Mar 8, 1790, 46y - wife of Stephen 66
Mr. Stephen, May 24, 1812, 71y - Rev. War, Shrewsbury, MA - 67
Dr. Samuel, b. Aug. 21, 1756, d. Jun 24, 1830, 74y - Lieut. in Rev. War, Shrewsbury, MA - 175
Mary (Ball), Aug. 26, 1852, wife of Dr. Samuel, dau. of Stephen Ball
Mr. Charles F(or T.?). , May 14, 1826, 11mo - son of Stephen and Jemima (Flagg), who were married in 1816 29
Mrs. Chloe (Pond), May 30, 1846, 48y, wife of Deacon Moses Brigham (who went to Ne Bedford, MA)
Olivia Ann, Feb. 18, 1849, 22y, dau of Moses and Chloe

Bush
Col Jotham, Dec 13, 1837, 80y, 8m, 5d
Mary ( Taylor ), Nov 17, 1836, 75y, 9m, 5d, wife of Col. Jotham
Mr. John , Apr. 14, 1788, 1y, 4m, 12d. son of Capt.John and Mary- 41
Miss Harriet, Sep. 8, 1794, 2y - dau of Jotham and Mary - 42
Mr. Jotham, Mar 18, 1750, 8mo, 5d, son of Jotham and Hepziba- son of Jotham and Hezpiba (Keyes) - 39
Mr. Jonathan, Feb 22, 1771, 3y, 11mo, 29d, son of Jotham and Hezpiba (Keyes) - 40
Dea. Jotham, b. Sep 30, 1800, d. July 30, 1880
Hannah (Fisher), Oct 12, 1848, , 44y, 7m, wife of Dea. Jotham
Mary Taylor, b. 1839, d.1929
Mr. John, July 14, 1757, 57y, 11m, 15d - 70
Mrs. Martha (Temple), Mar 2, 1792, 92y, wife of John - 69

Cobb
Olive e., Mar 19, 1832, 15m, dau of Salem and Clarissa (Hinds) Cobb

Child
Mrs. Grace, June 8, 1750, 52y - 205

Collier
Mrs. Fanny, Sep 23, 1805, 23y, 7mo, wife of Mr. Ezra Collier- 201
Miss Eunice H., Jan 19 1813, 2y,1mo, dau. of Mr. Ezra and Mrs. Patty Collier - 202
Mr. Charles H., Dec. 24, 1826, 8y, son of Mr. Ezra and Mrs. Patty Collier - 203

Cotton
Rev Ward, b. Mar 24, 1770, d. Nov 15, 1843, 73y, 8m, Ordained at Boylston, June 1, 1797 - dismissed June 22, 1825 - Pastor of the Town of Boylston for 28 years
Rebekah (Jackson), Oct 11, 1854, 83y, wife of Rev. Ward
John T. b. Feb 25, 1801, d. Oct 17, 1884
Lydia J. Apr 25, 1829, 23y, wife of Josiah Pope
Miss Mary, Sept. 20, 1802, 17d - 292

Crawford
Mr. John, Jul 23, 1760, 1y, 10m, 7d, son of William and Mary (Dunsmore)- 144

Dakin
Mrs. Betty (Keyes), May 3, 1805, 73y,8mo, wife of Oliver (Jr.) - 213
Mr. Oliver (Jr.), June 21, 1805, 78y - Lt. Rev. War, Sudbury, MA - 214
Oliver (3rd), Nov 14, 1812, 58y, Rev. War, Sudbury, MA - 217
Mrs. Silence (Brown), Apr 23, 1793, 30y "Kind reader drop mournful tear, over the dust that's buried here, and when you read the fate of me, think on the (_) that (_) for me"215


************************************

One grave:
Mr. Abel, Nov 29,1806, 7d - 216
Mr. John, about 1807, 7mo - 216
(sons of David and Lucy (Wyman) Dakin)


************************************

Davenport
Miss Sally Andrews, Dec. 27, 1825, 19y, dau of Mathew Davenport, Esq and Sally his wife- 43
Mr. Jephthah M., July 29, 1816, 10y (drowned), son of Mr. Nathaniel and Mrs. Zerurah- 44

************************************

One Grave:
Mr. Infant, Nov.21, 1812, 9mo, 24d, son of Mr. Nathaniel and Mrs. Zerurah Davenport - 45
Mr. James H., Nov.23, 1813, 1y, 11mo, 3d, son of Mr. Nathaniel and Mrs.Zeruarah- 45


************************************


Mr. Frederick W., Oct 3,1810, 2y, 6m,14d, son of Mr. Nathaniel and Mrs. Zeruiah Davenport,"When the archangel's trumpets shall blow, and souls to bodies join, mililonsshall wish their lives below , had been as short as thine"- 46
Mr. Jephthah, Oct 4, 1794, 4y, 2m, 9d, son of Mr. Mathew and Mrs. Patience Davenport - 47
Miss Cecilia Augusta,July 13,1825, 8mo - 71
Mr. Edward Andrews, June 3, 1822, 10y - 72
Mr. John, Mar 16, 1814, 26y - 73


************************************

One grave -three children:
John, Jan 15, 1753, 20y - 74
Elijah, Sep. 29, 1745, 5y - 74
Nathaniel, Sep. 25, 1745, 2y - 74


************************************


Mrs. Tamer, Feb. 7, 1815, 84y - 75
Elizabeth, Sept 18, 1762, 53y, wife of Nathaniel - 76
Mr. Nathaniel, Oct 8, 1795, 88y - Rev. War soldier - 77
Mrs. Patience (Goodnow), Dec 31, 1820, 67y, wife of Matthew - 78
Mr. Matthew, Aug. 19, 1814, 69y, suddenly - 79
Dr. William, Oct. 14, 1816, 21y, in Boston of consumption - 80

Dawson
Elizabeth, Nov 18, 1830, 25y, wife of Cpt. Eli Dawson

Dunsmoor (Dunsmore)
Mrs. Jane, Oct 15, 1765, 50y, wife of William - 145
Mr. William, Nov 27, 1782, 84y - 146
Mrs. Ruth (Moors), Apr 4, 1808, 84y, wife of William - 147

Dunton
Mr. Reuben (Sr.), Mar 16, 1815, 65y - 318
Reuben (Jr.), Mar 19, 1865, 86y
Ann, July 5, 1869, 81y, wife of Reuben (Jr.)

Eager
Mrs. Elizabeth (Green), Jan 31, 1824, 74y, wife of Joseph - 156
Miss Mary, Dec 12, 1812, 80y, dau of M.Aaron and Mary Eager (formerly of Marlboro) - 314
Miss Molly, Dec 30 1795, 5y, dau of Joseph and Elizabeth - 315
Miss Caty, Dec 20, 1795, 10y, dau of Joseph and Elizabeth - 316
Mr. Joseph, Apr 23, 1814, 70y, Rev War, Northboro - 317

Eames
Miss Polly, July 17, 1819, 31y, - 297
Mrs. Lydia (Wait), July 8, 1829, 67y, wife of Gershom - 298
Mr. Gershom, June 24, 1838, 84y, Rev War Soldier
Hannah, Sep 18, 1831, 41y

Fassett (Faset)
Jonathan, May 24, 1834, 92y, Rev. War Soldier
Mrs Sarah, Mar 15, 1830, 86y, wife of Jonathan - 236
Mr. Lyman, Jan 1, 1812, 6m - 237

Flagg
Stephen, b. July22, 1728, d. Jan 16, 1758 (Shrewsbury record)
Judith (Taylor), Feb 21, 1810, 80y, wife of Stephen, dau of Eleazer Taylor - 94
Mr. Stephen, 1758, 3y - 89
Mr. Solomon, 1756, 3y - 90
Mr. John, 1756, 5y - 91
Mr. Stephen, 1768, 13y
Mr. John, Jan 30, 1785, 20y, - 92
Miss Lucretia, Dec 13, 1786, 19y - 93
Mr. Benjamin, b. May 25, 1766, d.Apr 9, 1813, 46y "Enterprising in mind, active and useful in society, kind and helpful to such as were in difficulty, willing to aid in the establishment of useful societies, and in the support of religious institutions, he was suddenly taken form his family and friends and in death is much lamented."- 64
Persis (Dakin), Mar 24, 1848, 79y, wife of Benjamin
Miss Persis, Aug 19, 1813, 4y, dau of Benjamin and Persis - 65
Miss, Hepzibah, May 24, 1811, 19y, dau of Benjamin and Persis - 62
Miss Judath, Mar 12, 1813, 17y, dau of Benjamin and Persis - 63
Elizabeth, May 24, 1811, 19y
Mr. Stephen, Feb 24, 1814, 87y - 95
Capt. Gersham, Dec 8, 1823, 53y - 96
Sally (Brigham), Oct 11, 1844, 73y, wife of Capt. Gershom
Miss Martha B., May 30, 1824, 18y - 97
Mr. Jotham, Mar 1, 1826, 26y - 98
Isreal L. Aug 7, 1831, 18y, son of Abjah and Polly (Longley) Flagg
Mr. Stephen, May 24, 1828, 69y - 265
Betsey, Apr 1, 1838, 77y, wife of Stephen
Miss Sally, Mar 14, 1819, 20y, dau of Stephen and Betsey - 262
Miss Dolly, Apr 5, 1818, 29y, dau of Stephen and Betsey - 263
Miss Betsy, Apr 29, 1827, 40y, dau of Stephen and Betsey - 264
Rev. John, b. 1790, d. Mar 4, 1831,41y, son of Stephen and Betsey, Graduated at Harvard University 1816, Ordained Pastor of the Second Parish in Roxbury, Feb 2, 1825
Mr. Asa, Oct 18, 1825, 33y - 31
Lucretia (Flagg), Oct 24, 1836, 48y, wife of Asa
Mr. Davis, Mar 3, 1825, 12y - 30
Aaron L., Mar 19, 1832, 21y
Lucretia, Sep 27, 1832, 12y
Sarah, 1803 - 1882

France
James E. d. ?
Sarah (Goodnow) Dec 30, 1842, 32y, dau of Jonas and Sally, wife of James

Fuller
Miss Lucy, July 27, 1818, 53y - 112
Mr. Silas, June 7, 1829 (or 27), 53y - 112
Mrs. Mary (Cooledge), Aug 17, 1802, 64y, 11m, wife of Amos - 113
Mr. Amos, Oct 6, 1801, 64y, 4m, Rev War, Bolton, MA - 114

Fisk
Mrs. Sarah, Jan 20, 1814, 66y - 168

Gale
Miss Betsy, Jun 14, 1829, 61y - 111

Gersham
One Grave
********************
Mr. ------, May 22, 1817, 2y - 284
Miss, Mary Ann, Oct 5, 1821, 2y - 284
********************

Gibbs
Mrs. Eliza(or Elizabeth?) (Sawyer), Dec 25, 1819, 36y, wife of Col Hezekiah - 293
Col. Hezekiah, Jun 10, 1855, 77y, 7m
Hannah (Peirce), Jun 2, 1853, 59y, wife of Col Hezekiah
Meriam, Mar 29, 1832, 77y

Goodale
Mr. Peter, Jan 25, 1751, 6y, son of Edward and Sarah Goodale - 280
Edward, b. May 23, 1715, d. Jun 23 1756 (Monument was erected by Aaron Goodale of West Boylston)
Sarah (Temple), Mar 5, 1810, 96y, wife of Edward (buried in West Boylston)

Goodenow (Goodnow)
Mr. Otis, Sep 18 , 1800, 2y, 3m, 15d, son of Elijah and Eunice (Harthan) Goodnow (who are buried in West Boylston) - 23
Miss Amittai, Sep 4, 1798, 5y, dau of Abel M. and Amittai (Fassett) Goodnow - 24
William E., June 9, 1836, 28y, 6m
Henry, Oct 30, 1835, 23y, 6m, died of Typhus, son of Nataniel and Lucy Goodnow
Miss Hannah, Dec 22, 1831, 27y, dau of Nathaniel and Lucy Goodnow
Mary, Mar 2, 1838, 35y, eldest dau of Nathaniel and Lucy Goodnow
Nathaniel,Feb 24, 1848, 76y

Harrington
Mrs. Prudence (Moor), Jan 7, 1829, 50y, wife of Capt. Artemas - 179

Harris
Miss Polly, Mar 5, 1805, 20y, dau of Daniel and Abigail(Wheelock) Harris - 319

Harthan
Mrs. Sarah (Jones), Jan 2 1820, 86y, wife of Micah, dau of Samuel and Susanna Jones - 52
Mr. Micah, b. Mar 31, 1735 in Marlboro, d. Jul 25, 1803 in West Boylston, 69y, Rev. War from Lancaster - 53

Hartshorn
Deacon Ebenezer, May 28, 1815, 68y, Rev War form Walpole and Wrentham, MA - 158 and 182
Mrs. Betty (Greenwood), Feb 1, 1815, 48y, wife of Dea. Ebenezer - 159 and 183
Daniel, Nov 21, 1856, 83y
Mrs. Rebeckah (Morse), Aug 19, 1820, 42y, wife of Daniel - 160 and 184
Tamar (Stiles), Aug 13, 1829, 40y, wife of Daniel, widow of Dennis Andrews of Roxbury, MA - 185
Betsey, Sep 11, 1868, 87y, wife of Daniel

Hastings
Thomas, Mar 5, 1835, 57y
Elizabeth (Whitney), July 22, 1856, 75y, wife of Thomas
Martha, Mar 24, 1868, 54y, dau of Thomas and Elizabeth
Miss Nancy, Aug 9, 1830, 13y, 8m, dau of Thomas and Elizabeth - 20
Ephraim, d.????
Mrs. Achsah (Sawyer), Mar 29, 1830, 35y, wife of Ephriam - 21
Four infant children of Ephraim and Achsah
Mr. Benjamin, Jan 26, 1813, 45y, wife was Achsah Barnes - 22
Mrs. Mary (Whitney), May 5, 1803, 30y - 50
Miss Ruth, Sep 25, 1756, 2y,8m, 23d, dau of Daniel Jr. and Priscilla (Keyes) Hastings- 99
Miss Olive S., May 4, 1815, 4m, 25d, dau of John and Polly( Moore)Hastings - 133
Mr. Timothy(Fay), May 1, 1821, 51y - 157
Persis (Howe), Jan 5, 1839, 64y, wife of Timothy
Miss Martha Ann, Oct 16, 1828, 20y, 14d, dau of Nathiel and Betsey (Hastings) Hastings - 206
David, Dec 4, 1835, 65y
Mrs. Elizabeth (Eager ), Jul 22, 1824, 56y, wife of David - 229
Elizabeth Wetherbee, Feb 24, 1846, 67y, second wifeof David
Eunice Wetherbee, Feb 19, 1835, 21y, dau of Mr. Elizabeth Hastings
Miss Lucy, Jan 8, 1813, 30y - 230
Miss ------, Apr 9, 1794, 2d, dau of John (jr.) and Sally (Houghton) Hastings- 231
Mrs. Dinah (Williams), Nov 26, 1830, 85y, wife of David - 248
Mr. David, Aug 30, 1823, 84y, Rev War - Shrewsbury, MA - 249
Mrs. Betsy (Howe), Jan 10, 1813, 73y, from Lancester, wife of Lt. John- 250
Lieut. John, Sep 28, 1802, 65y, 1m, Rev. War - Shrewsbury, MA - 251
Miss Allice, Aug 9 , 1824, 48y - 252
Mr. Stephen, Aug 13, 1792, 65y - 254
Martha (Walker), Jan 11, 1835, 75y, 10,m, 20d, wife of Stephen
Mr. Jotham H., Feb 11, 1824, 1y, 10m, son of Jotham and Lucy (A. Willinton) Hastings- 290
Mr. Seth W., Nov 1, 1813, 1y, 8m, son of Jotham and Lucy (A. Willinton) Hastings - 291
Mr. Eliakim, Nov 21, 1807, 1d, son of Eliakim and Patience - 305
Mr. Eliakim, Jan 17, 1805, 2d, son of Eliakim and Patience - 306
Miss Lois, Sep 8, 1796, 1y, 9m, 5d, dau of Eliakim and Patience - 307
Mr. Eliakim, Dec 5, 1803, 19y, 2m, 14d, son of Eliakim and Patience - 308
Mr. Eliakim, Aug 18, 1811, 49y, "Farewell my wife, my children dear, this worlds no more my rest, In heaven, I hope to meet you, where Gods spirits are ever blest" , engraved by Samuel Kiburn at Sterling - 309
Mrs. Patience (Morse), Dec 3, 1816, 52y, wife of Eliakim - 310
Mrs. Mary (Hastings), Jul 21, 1817, 27y, wife of Luther Hastings- 134
Luther, Sep 28, 1815, 1y, 2m, drowned, son of Luther and Mary
Polly (Fairbanks) , Jan 13, 1879, 92y,10m,10d, of Berlin, MA, wifeof Jonathan (Jr.)
Jonathan (Jr.), Oct 27, 1835, 55y
James, Mar 26, 1870, 75y
Emilia (Kendall), May 14, 1825, 28y, wife of James
Eliza, Sep 18, 1888, 83y, 8m, wife of James
Sarah W., July 16, 1839, 6y, dau of James, "Let little children come to me, this is what the saviour said, little children come and see, here is where the words are read"
Silas, Sep 9, 1833, 54y
John E. , Nov 9, 1842, 44y, wife was Percis F. Eager

Hervey
Mrs. Lydia, Mar 1, 1820, 60y, wife of Johathan, "Weep not for me I sleep in Peace, But think that death is over nigh, Tho' now in healty your days increase, rember you youself must die" - 219

Hinds
Mrs. Elizabeth, Mar 16, 1762, 37y - 119
Mr. Benjamin, Oct 29, 1794, 69y, 3m, 11d - 257
Mrs. Tabitha (Holland), Jun 4, 1826, 84y - 258

Holland
Mr. Jonah, Sep 13, 1759, 7y, 4m, 24d, son of Samuel and Sarah (Hastings) Holland - 275
Mr. John, May 22, 1767, 93y,2m,4d - 276

Holt
Berzillai, b. Oct 25, 1715 in Andover, MA, d. Feb 7, 1774, 58y - 253

Houghton
one grave
*****************
Mrs. Elizabeth (Garfield), Apr 2, 1746, 48y, wife of Joshua - 128
Mr. Hiram, Aug 25, 1745, 12y - 128
*****************
*one stone
****************
Benjamin, Jul 4 , 1837, 69y
Mrs. Eunice (Moore), Jan 31, 1834, 62y, wife of Benjamin
*****************
Miss Mary M., Feb 24, 1827, 17y, dau of Benjamin and Eunice- 61
Mr. A. Parley, Sep 29, 1796, 6 1/2y, son of Benjamin and Eunice - 60
Mr. Parley, Jan 26, 1803, 7y, son of Benjamin and Eunice - 59
Miss Prudence, Jun 27, 1817, 18y, dau of Benjamin and Eunice - 58
Miss Parney P. Jul 2, 1810, 2y, dau of Benjamin and Eunice- 56
Mr. Nahum, Apr 22, 1828, 22y, son of Benjamin and Eunice - 57

Howe
Mr. John Jr., Mar 18, 1819, 1m, son of John and Sibel (Babcock) Howe - 12< BR>Mr. Silas, Apr1, 1811, 10w, 2d, son of John and Sibel (Babcock) Howe - 13
Mrs. Abigail (Bennett), Aug 20, 1784, 76y, wife of Phineas- 15
Mr. Phinehas, Dec 7, 1801, 94y - 16
Mr. Silas, Sep 10, 1817, 80y - 18
Mrs. Abigail (Moor), Jan 18, 1813, 69y, wife of Silas - 19
Miss Tamer, Oct 28, 1775, 3y, 1m, 28d, dau of Silas and Abigail - 14
Miss Lois, Dec 14, 1805, 59y, dau of Silas and Abigail - 17
Miss Elmyra A. , Dec 25 1839, 11m, 23d, dau of Jotham and Elmyra (Kendall [she is dau of Caleb and Priscilla Kendall]) Howe - 25
Samuel K., Apr 2, 1832, 5m, son of Jotham and Elmyra
Samuel K., Aug 31, 1834, 1y, 4m, son of Jotham and Elmyra
Mr. Levi, Jun 6, 1826, 62y - 28
Molly (Ross), b. Jan 28, 1762m d. May 26, 1842, 80y, 3m, wife of Levi
Mr. Abel, Mar 31, 1793, 1y, 8m, 26d, son of Levi and Molly- 26
Mr. Micah, Aug 26, 1795, 8y, 22d, son of Levi and Molly - 27
Dr. Abraham, Oct 19, 1779, 21y, 7m, 5d - 136
Miss Mary M. , Jun 3, 1830, 13m, dau of Micah and Lydia (Moore-Ball) Howe - 153
Mr. George Lyman, Mar 13, 1828, 14m, Son of Parker and Isabel Howe - 279

Kendall
Mr. Horace K., May 6, 1812., 7m - 34
Mr. Joshua, Sep 22, 1813, 32y, 4m, 27d - 33
Patty Sawyer, Oct 15, 1859, 73y, 6m, wife of Joshua
Mr. Horace, Mar 27, 1827, 6y, 3m, son of David and Polly - 35
Olive, Aug, 11, 1839, 3y, 3m,dau of David and Polly
***************
Infants, one grave, children of David and Polly (Wellington) Kendall (who were married, Apr 2, 1812)
Horace, Mary, Olive, Prior to 1830 - 36
****************
Mrs. Priscilla (Townsend), Nov 9, 1786, 33y, 8m, 28d, wife of Caleb - 105
Mr. Caleb, Jun 5, 1806, 69y, Rev. War soldier- 106
Mr. Rufus, Jan 12, 1830, 2y, 3m, 27d, son of Henry and Mary Lou - 285

Knowlton
Mr. Josiah, May 31, 1828, 44y, - 261
Esther (Woodbury), Apr 12, 1883, 95y, wife of Josiah
SophiaW., Feb 4, 1832, 11y, 6m, dau of Josiah and Esther
Mr. Ward, Feb 28, 1826, 20m, son of Josiah and Esther- 260
Nehemiah, Aug 13, 1834
Martha (Tilton), Aug 6, 1832, 84y, 6m, wife of Nehemaih

Keyes


************************************

One Grave:
Miss Sally, Sept. 18, 1800, 1y,daughter of Mr. Thomas Jr. and Lydia -54
Miss Mary, Sept. 18, 1800, 5y, 6mo, 26d, daughter of Mr. Thomas Jr. and Lydia -54


************************************


Eunice, Oct 20, 1793, 19y,26d, dau of Benjamin
Mr. Jonathan, Aug. 12 1813, 4y, 8m, 26d, son of Mr. Thomas and Lydia Keyes - 55
Mrs. Sarah (Thurston), Feb. 26, 1807, 41y, wife of Asa Keyes, who is buried in West Boylston (d. Dec 27, 1850, 82y) - 82
Miss Lucy, Mar. 4, 1776, 16y, 7m, 17d - 83
Mr. Luther, Nov. 5, 1773, 1y, 1m, 15d - 84
Mrs. Mary (Temple), Jan 21, 1800, 59y - 85
Mr. Thomas, Dec. 21, 1812, 75y, Rev. War Soldier - 86
Miss Ruth, Jan 31, 1756, 27y - 100
Mrs. Ruth, Jan 11, 1756, 53y, wife of Henry - 101
Mrs. Lucy, Oct. 9, 1777, 35y - 102
Mr. Simeon, Jan 21, 1782, 41y, 9m, 10d, Rev.War Soldier - 103
Mr. Henry, Aug 1, 1788, 19y, 11m, 11d - 104
Elizabeth, Apr 29, 1793, 20y, 1m, 8d.
Miss Patty, Jan22, 1781, 18y, 11m, 6d, daughter of Mr. Cyprian Jr. and Mrs. Martha Keyes- 207
Mr. David, Nov 23, 1775, 18y, 4m, 11d, son of Mr. Cyprian Jr. and Mrs. Martha Keyes - 208
Mr. David, Sept 11, 1745, 4y, 22d, son of Cyprian and Hephzibah- 209
Mrs. Levinah, Jan 19, 1756, 18y, 11m, 6d, Daughter of Cyprian and Hephzibah - 210
Mrs. Hephzibah (Howe), Mar. 15, 1792, 86y , wife of Cyprian- 211
Deacon Cyprian, Jun. 18, 1802, 95y, 9m -212
Mrs. Phebe, Sept 16, 1748, 36y, 10m, 16d, dau of John and Sarah Keyes - 234
Deacon John, Sept. 15, 1753, 86y - 235

Lamson
Mrs. Elizabeth (Gibbs), Nov 18, 1830, 25y, wife of Capt. Eli - 224
Mr. Nathaniel Jr., Sep 3, 1817, 40y - 244
Tamar( Howe), Sep 3, 1861, 82y wife of Nathaniel Jr.
Mr. Eli, Jul 29 1790, 10y, drowned, son of Nathaniel and Mindwell- 245
Mr. Nathaniel, Mar 29, 1822, 74y - 247
Mrs. Mindwell (Brigham), Mar 26, 1785, 38y, wife of Nathaniel - 246
Elizabeth (Miller), Sep 14, 1834, 86y, wife of Nathaniel

Lawson
James, d. ??, son of Samuel Lawson

Longley
Mr. Isreal, Jun 6, 1793, 6m, 17d, son of Capt James and Molly- 299
Mr. James, Jun 10, 1793, 1y, 11m, 19d, son of Capt. James and Molly - 300
Mr. Isreal Nov 30, 1812, 17y, son of James and Molly - 301
Rev. Jonathan, Jan 26, 1850, 60y, educated at Harvard College, "He walked with God, His record is on High"
Esq. James, Jan 14, 1837, 83y, 2m, 10d, Rev. War soldier
Mrs. Molly(Bartlett), Aug 27, 1831, 69y, wife of Esq. James
Parker, b. Nov 22, 1800, d. May 2, 1860, 59y, 5m
Lydia (Davis - Green)., Oct 9, 1877, 79y, 1m, wife of Parker
Edwin, Oct 17, 1827, 14d, son of Parker and Lydia

Loring
Miss Mary H. , Oct 6, 1841, 11y at Groton, MA - 68
Elmer, Sep 9, 1839, 42y
Mary Martha (Hastings), d. ??, wife of Elmer
George Elmer, Nov 5, 1832, 7m, 9d

Maynard
one grave
***********************
Elisha, Feb 16, 1760, 56y - 81
Elisha, Jul 17, 1759, 11y, 3m, 2d, son of Elisha - 81
***********************
Huldah (Bannister), d. ?? , wife of Elisha
Mr. Levi, Apr 20, 1804, 2m, son of Levi and Polly - 115
Mr. Gardner, Apr 14, 1745, 11m, 11d, son of Elisha and Huldah, This was the first burial in the old burial grounds, side two reads"First that in this burying place doth lies"- 116
George, b. 1797, d. 1871
Nancy (Hartshorn), b. 1802, d. 1851, wife of George
Danniel Hartshorn, May 26, 1834, 3y, son of George and Nancy
Miss Abby B., Apr 1,1848, 53y

Moor (Moore)
Miss Prudence, Oct 6, 1775, 20y, dau of Levi and Rebeckah - 191
Mr. Abijah, May 26, 1796, 29y - 192
Decon Levi, Oct 10, 1815, 84y, Rev. War Soldier - 193
Rebeckah (Sawyer), d. ??, wife of Dea. Levi
Mrs. Abigail, Jan 11, 1822, 30y - 204
Mr. Hugh, Sep 26, 1833, 79y, Rev. War Soldier
Mrs. Sarah (Holland), Aug 12, 1817, 63y, wife of Hugh - 266
Miss Sophia, Mar 14, 1810, 26y, dau of Hugh and Sarah, " Youth like a vernal flower apperars, Most promising and fair, But death like an untimely frost, Puts all in silence there." - 267
Miss Olive, Feb 17, 1810, 28y, dau of Hugh and Sarah, "Hark while you hear my heart strings break, How sweet the minutes roll, Amortal paleness on my cheek, But glory in my soul.", engraved by Samuel Kilburn at Sterling, MA - 268
Mr. Holland, Mar 26, 1790, 4y, 8m, 12d, son of Hugh and Sarah - 269
Mr. William , Apr 14, 1790, 2y,7m, 5d, son of Hugh and Sarah - 270
Miss Lucy, May 19, 1794, 15y, dau of Hugh and Sarah, " Friends nor Physicians could not dave, My mortal, body from the grave, Nor can the grave confine me here, When Christ shall call me to appear"- 271
Mrs. Fanny, Dec 12, 1812, 80y - 313
Mrs. Clara (Pearson), May 2, 1833, 26y, wife of William H., Epitaph not readable, engraved by C. Darby. Worcester
Sarah H., May 6, 1838, 8y, dau of William and Clara
Deacon William H., May 10, 1855, 59y, 7m, 26d
Abigail (Lamson), Feb 18, 1910, 95y, 10m, 17d, wife of William H.
Celia A., Jul 20, 1868, 21y, 6m, dau of William H. and A.L. Moore, "Beloved Daughter, Rest"
Mrs. Fanny (Tilton) , Dec 18, 1806, 25y, wife of Mr. David Moore, "Lord I commit my soul to thee, Accept the sacred thrust;Receive this nobler part of me and watch my sleeping dust"

Morse
Mr. Ebenezer, Jul 28, 1754, 7w, son of Ebenezer and Persis - 163
Mr. Eliakim, Feb 27, 1758, 7y, 10m, 20d - 164
Rev. Ebenezer, b. mar 2, 1717, d. Jan 3, 1802, 84y, in tomb - 165
Mrs. Persis(Bush), May 6, 1788, 23y, wife of Rev Ebenezer, dau of John Bush
Mr. Silvenus, Feb 22, 1792, 6m, 14d, son of Joseph and Sophia (Bigelow) Morse - 225
Mr. Joseph, Oct 12, 1776, 55y - 226
Mrs. Mary(Thomas), Jan 29, 1801, 71y, 11m, wife of Joseph- 227

Osgood
Mr.Ephraim, May 15, 1800, 11m, 15d - 273
Miss Eunice, Apr 6, 1803, 7y,11m, - 274
Miss Clarissa, Sep 29, 1809, 6y, 9m, 22d, daughter of Abel (Jr.)and Eunice- 278
Mr. Abel, Mar 9, 1814, 76y - 281
Mrs. Eunice (Holland), May 14, 1815, 70y - 282
Mr. Abel (Jr.), Jun 26, 1830, 62y - 283
Eunice, (Temple),Apr 27, 1857, 90y, wife of Abel (Jr)
Eunice, Jan 30, 1881, 74y,11m, 15d

Partridge
one grave
*********************
Mrs. Polly (Maynard), Sep 30, 1796, 20y, wife of James - 51
Mr. Levi, Oct 11, 1796, 16d - 51
********************* James, d. ??

Perry
Miss Abigail, Mar 7, 1821, 3m, 17d - 272
Jonas and Harriet (Osgood) Perry, d.??

Pierce
Mr. Josiah, Jan 16, 1804, 52y, Rev. War Soldier - 5

Plimton
Mrs. Polly, Apr 18, 1825, 35y - 287

Pratt
Mr. Abijah, Jun 23, 1830, 62y - 130
Mrs. Sarah, Jan 21, 1828, 62y - 131
Mr. William, Sep 23, 1813, 19y - 132

Ross
Mr. Timothy, Oct 9, 1823, 84y - 38

Sanger
Mr. William b., Sep 21, 1825, 1y, 9m, son of William and Sarah - 127

Sawtell
Mr. Joseph, Oct 23, 1817, 29y, husband of Lucretia (Collier) - 108
Joseph, Jun 21, 1832, 19y

Sawyer
Mr. Oliver, Jr., Aug 1, 1824, 36y - 32
Miss Lucy, Jun 9, 1819, 23y - 220
Deacon Amariah, Jan 8 1814, 48y, " My tender wife nonot complain, That I am called away, I trust that we shall meet again, At the deciscive day" - 221
Mrs. Sarah (Moore), Jan 14, 1817, 41y, wife of Decon Amariah, "Jesus my loves to glory gone, Jim will I go and see and all my friends thats here below, I hop will follow me, My friends I bid you all adieu, I leave you in God's care, And if on earth we meet no more, Go on I'll meet you there." - 222
Mr. Amariah, Nov 7, 1831, 25y, "The years were few but of berift, parent nor bother or sister left, To weep around your beir, But theres a hope of blessed one, That no----------all below, Eternal love to share."
Mr. Joseph, Mar 9, 1829, 19y - 223
Mr. Joseph, Sep 1, 1786, 49y - 238
Moss Ruth, Jan 20, 1815, 17y, dau of Deacon Amariah and Sarah, "Behold and see as you pass by, As you are now so onec was I, As I am now so you must be, ------covered by---dirt----" - 239
Miss Persis, Aug 3, 1803, 3y,2m, 3d, dau of Deacon Amariah and Sarah - 240
Mr. Araunah, Jan 18, 1811, 2y, 30d, son of Deacon Amariah and Sarah- 241
Mr. Ameriah, Jyul 31, 1806, 2y, 5d, son of Deacon Amariah and Sarah - 242
Miss Persis, Apr 7, 1815, 5y, 9m, 15d, Daughter of Deacon Amariah and Sarah - 243
Mr. Aaron, Apr 30, 1817, 62y, Rev. War Soldier - 294
Keziah (Richardson), d??, wife of Aaron
Mr. James, Jun 12, 1790, 14m, 3d - 295
Mr. Ezra, Sep 12, 1813, 20y - 296
Oliver, Dec 31, 1838, 80y
Patty (Hinds), Mar 31, 1836, 75y, 6m, wife of Oliver
Oliver, Jr., Aug 1, 1824, 36y

Smith
Mrs. Sarah (Warren), Jul, 6, 1800, 83y - 109
Mr. Joseph, Apr 2, 1790, 77y - 110
Thomas, Jul 6, 1791, 75y

Stiles
Miss Harriot, Aug 24, 1803, 3m, 11d - 194
Mr. Joshua Jr., May 19, 1816, 22y - 195
Miss Eunice, Sep 8, 1821, 29y - 196
Deacon Joshua (Ensign), May14, 1828, 70y, Rev War, Lancaster, MA - 198
Mrs. Abigail (Gale), Jun 28, 1829, 71y, wife of dea Joshua - 199
Lucy, Jul 8, 1826 30y, wife of George Maynard
Deacon John, Apr 11, 1859, 73y
Mrs. Rebecca (Moore), May 19, 1827, 34y, wife of Dea John - 200
(Charles, b.Nov 10, 1810, d. Apr 25, 1839, 28y, buried in Leg Cemetery, W. Sterlilng, MA, son of John and Rebecca)

Stone
Isaac, Mar 1, 1832, 51y
Sally(Moore), Jul 12, 1823, 39y - 302
Mrs. Abigail (Moor), Feb 19, 1807, 25y, 6m, 6d, wife of Isaac Stone - 303
Mrs. Martha (Barnes), Mar 232, 1796, 24y, 6m, 12d, wife of Jacob - 320
Jacob, d. ??
Eli, d. ??
Abigail, Aug 3, 1855, 33y, wife of Eli

Taylor
Lieut. Eleazer, Sep 20, 1753, 54y - 148
Mrs. Hannah (Flagg), Mar 22, 1794, 88y, - 149

Temple
Mr. Francis, Mar 9, 1761, 31y, 3m, 21d - 141
Isaac, May 31, 1791, 88y - 186
Mrs. Elizabeth (Houghton), b. Mar 1, 1706, d. Dec 4, 1783, 77y, 8m, 21d - 120 and 143
Elizabeth, Mar 16, 1762, 37y
Miss Molly, May 16, 1790, 18y, - 121
Aaron, d. ??, Rev War Soldier
Mr. Aaron, Dec 14, 1788, 9m, 18d, son of Aaron and Elizabeth - 122
Mrs. Elizabeth (Smith), Aug !7, 1796, 51y, wife of Aaron - 123
Lieut Jonas, Nov 3, 1815, 83y, Rev War Soldier
Mrs. Olive (Keyes), Sep 30, 1781, 43y, wife of Lieut Jonas - 132
Miss Ruth, Nov 18, 1779, 7y, 1m, 4d, dau of Mrs. Olive - 137
Mr. Jonas, Oct 21, 1779, 15y, 5m, 9d, son of Lieut. Jonas and Olive - 138
Mrs. Keziah (Howe), Aug 22, 1788, 47y, Wife of Lieut. Jonas - 139
Mr. Jonas, Nov 3, 1815, 83y, - 140
Mrs. Anne, Apr 4, 1765, 22y, 26d, dau of Daniel and Mary (March) - 142
Mrs. Betty (Hinds), Feb 20, 1753, 24y, wife of Ephraim - 256
Ephraim, d. ??
Mary (Farrow), mar 30 1767, 33y, 2m, 10d, wife of Ephraim
(John , buried in West Boylston)
Mrs. Lois (Harthan), Apr 23, 1792, 22y,3m, 23d, wife of Mr. John - 117
Mr. Francis, Feb 28, 1795, 28y, - 118

Tilton
Nathaniel,d.??
Mrs. Polly, Jul 21, 1817, 28y, wife of Nathaniel R. - 311
Mr. Joseph, Oct 20, 1802, 18y, son of Joseph and Elizabeth, " Youth like a vernal flower appears most promising and fair, but death like an untimely frost puts all in silence there." - 312
Joseph, Mar 6, 1847, 87y, Rev. War Soldier, Essex Co.
Elizabeth (Russell), Nove 29, 1841, 80y, wife of Joseph
Fanny (see Moore)

Wheeler
Mr. Darius, Aug 4, 1807, 4y, 4m, son of Miss Mary Bixby 233

Whitcomb
Mr. Leonard, Mar 3, 1829, 60y, - 277

White
John, d.??
Marah (Holland), Jan 21, 1787, 23y, wife of John

Whitney
Catherine (Davenport), Aug 19, 1831, 84y, wife of Timothy
Mary Hastings, May 5, 1803, 30y, dau of Timothy and Catherine (Davenport)
Miss Ketharine, Sep 20, 1778, 11m, dau of Timothy and Catherine (Davenport) - 48
Miss Catherine, Apr 2, 1804, 26y, dau of Timothy and Catherine (Davenport) - 49
Mrs. Thankful (Allen), Aug 8, 1801, 88y, wife of Daniel - 151
Mr. Daniel, Oct. 9, 1779, 69y, 16d - 152
Miss Mary Allen, Oct 8, 1779, 68y, 3m
Levi, Oct 14, `1852, 80y
Rebekah (Fassett), Oct 27, 1833, 56y, 9m, 10d, wife of Levi
Miss. Almera, May 30, 1804, 3y, 4m, 12d, dau of Levi and Rebekah - 1
Rebecca D. , Oct 17, 1833, 29y, 5m, wife of Charles R. Bellows
John William Bellows, Aug 17, 1833, 8m, 15d, son of Rebecca
John G., Sep 15, 1848, 42y, 8m, 12d
Dennis, Feb. 15, 1866

Wilder
Mrs. Susannah (Sawyer), Jun 3, 1811, 51y, wife of Nathan - 232Maria S. , (d. Feb 8, 1839 in Lancaster), wife of Joseph M. Wilder and dau of Capt Gershom and Sally (Brigham)Flagg

Winn
Mr. Francis, Jun 2, 1817, 29y, husband of Polly (Howe), "Kind Reader drop mournful tear, Over the dust that's buried here, And whwen you read the fate of me, Think on the -- that run for me" - 218





[ Museum ]
[ Home ]
[ Programs ]
[ Gift Shoppe ]
[ Archives ]
[ J.Gough ]
[ Research ]
[ Join Us ]
[ Chronicles ]
[ Links ]
Copyright © 1998- 2011 Boylston Historical Society